Training program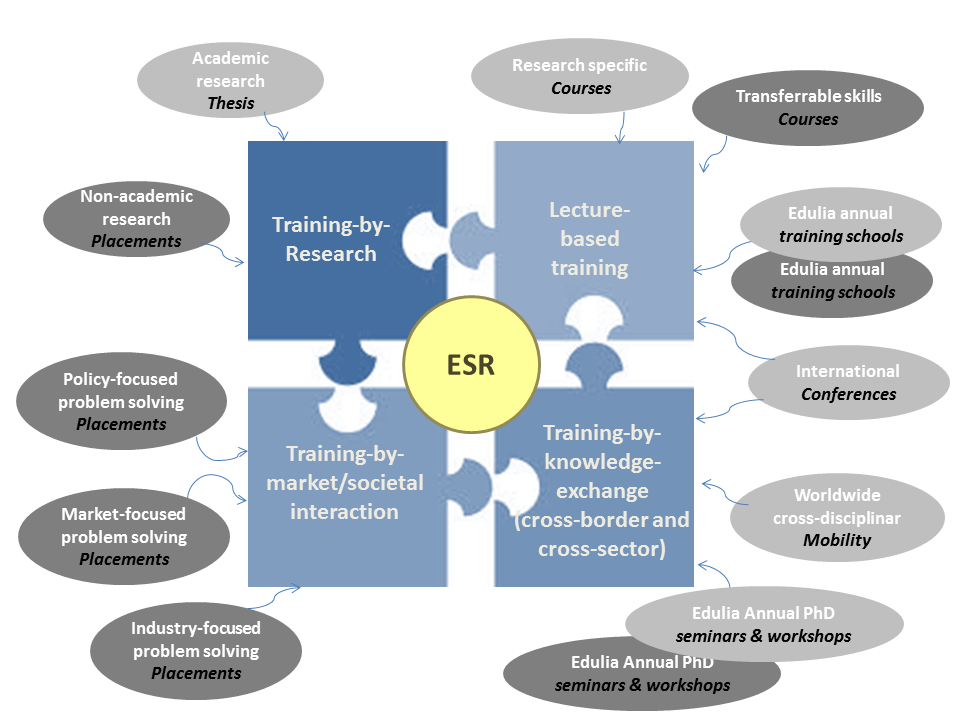 Training network of Edulia
Edulia will address the question of how to balance food pleasure and nutritional needs for children in a changing society through a training network compromising leading scientists in the children's Food Choice arena, and eleven early stage researchers (ESRs). The ESRs will become experts at the interface of the following complementary fields: Food Science, Sensory Science and Perception, Sensometrics, Human Nutrition, Consumer Behaviour, Eating Behaviour, Social Marketing, Food Socialization, Psychology, Cognitive Science and Neurosciences.
All ESRs in the training network will develop personal career development plans which will lead to a PhD, and include four areas balancing academic and non-academic training:
1) Training by research
Individual research projects
Supervision of a team of experienced researchers in their field
Host organisations are recognized for standards of excellence
Applied research in non-academic partners highly experienced in R&D activities (Tine, Arla, Elior, Sammontana, WUR-FBR)
Research activities in more than one work-package to ensure cross-field exposure
2) Lecture based training
Research-specific courses on complementary and transferrable skills (30 ECT) during the two first year
Local training courses (see table below)
Workshops
Edulia training schoolds
Participation and presentations at international conferences
3) Training by market and societal interaction
Applied research in non-academc partners within industry and public sector
To better understand industrial perspectives and societal challenges
Down-to-market problem solving
Projects on catering to schools (ESR10)
Children-driven healthy product development and product reformulation (ESR2, ES3, ESR5, ESR6, ESR11)
Data collection with children in real market setting ( ESR8 and ESR9 ), in a market research company (Kidvertising).
Policy development in local public agencies (ESR1, ESR4 and ESR11)
Outreach activities will serve to fulfill this training objective.
4) Training by knowledge exchange
Cross-border and cross-sector interaction
Teamwork between ESRs
Edulia PhD seminars organised annually (Months 12, 24, 36)
ESRs will give presentations on the progress of their projects
Network debates
Cross-disciplinary teamwork:

After each of the three Training schools, ESRs will have a task on the topic under study
The task will be defined by the program outline responsible partners.
ESRs will work remotely (online) in groups from different disciplines
They will  a common report to the Technical Committee two months after the training school.
This work is aimed to enhance teamwork and flexibility capabilities for cross disciplinary collaboration.
The student groups will be shuffled in the three years and will always be comprised of 2 or 3 students working on different WPs.
Overview of Edulia main training events & conferences
Training school (2-day) focus on WP2 and WP5:

Sensory perception and Food Choice
Satiety and overeating.
Half day workshop on transferrable skills: public policies development, led by Netherlands Nutrition Centre Foundation.
Responsible partners WUR, Nofima, NC
Month 12

PhD seminar (2-day)

In depth literature review with special focus on previous EU projects.
Presentation of individual working plans.
Responsible partners WUR, Nofima, NC
Month 12

Training school (2-day) focus WP6 and WP7:

Social interactions their relation to children's food choice
Nudging and Social Marketing as tools to enhance healthy eating in children.
Half day workshop on transferrable skills: commercial awareness in the food industry
Responsible partners: INRA, MAPP-AU, Elior
Month 24

PhD seminar (2-day):

Presentation and discussion of research results
Responsible partners: INRA, MAPP-AU, Elior
Month 24

Training school (2-day): WP3 & WP4.

Children focused methods to better understand food choice
Children driven healthy food development
Half day workshop on transferrable skills: project development and market communication, led by Sammontana.
Responsible partners: UNIFI, UdelaR, Sammontana
Month 36

PhD seminar (2-day):

Practical experience on secondments
Responsible partners: UNIFI, UdelaR, Sammontana
Month 36

Half day workshop on transferrable skills (only for ESRs):

Management and leadership in the food industry, led by TINE.
Knowledge & data management led by the Norwegian Institute of Public Health (FHI)
Responsible partners NOFIMA, TINE, FHI
Month 48

Edulia closing conference

open to academia, research institutes, industry, and governmental institutions
Presentation of results from the complete project
Responsible: All WP leaders
Month 48
Total ECTs of Network-wide training events 1 to 8 =10
Overview of Planned local training courses for each ESR
Below are listed for each ESR planned Research specific courses as well as courses for complementary  and transferrable skills courses
ESR1

Qualitative methods; Behavior and Incentives; Topics in Behavioural Economics; Social media
 Research Ethics and Philosophy of Science; Entrepreneurship; Gender studies ; Design of experiments and analysis of variance

ESR2

Qualitative methods; Essentials of Neurophysiology: from neurons to circuits to behaviours; Advanced neurobiology
Research Ethics and Philosophy of Science; Entrepreneurship; Gender studies; Design of experiments and analysis of variance

ESR3

Sensory & Consumer methods for food product development; Individual differences in food preferences; Computational Statistics
Mathematical modelling for food processing; Quality Management in Food Industry; Publishing in international peer reviewed journals

ESR4

Psychology of health and environmental behaviour; Energy metabolism and body composition; How to evaluate interventions in public health practice
Entrepreneurship in and outside Science; Effective behaviour in your professional surroundings; Efficient Writing Strategies; Presenting with Impact

ESR5

Sensory perception and food preferences; Energy metabolism and body composition; How to evaluate interventions in public health practice
Entrepreneurship in and outside Science; Effective behaviour in your professional surroundings; Efficient Writing Strategies; Presenting with Impact

ESR6

Sensory tools for investigating eating behaviour across the lifespan; Data analysis; Introductory courses to R and SAS
 Professional Communication; Management and entrepreneurship; Scientific Culture

ESR7

Research ethic, Bio-ethic in humans; Ethology and behavior science; Psycho-social development of children
 Professional Communication; Management and entrepreneurship; Scientific Culture

ESR8

 The Role of Theory Research; Advanced Qualitative Research Methodologies; Preparing, Writing and Reviewing Journal Articles
Introduction to Planning, Presentation technique and Teaching; Classic and contemporary entrepreneurship theory

ESR9

The Role of Theory Research; Advanced Qualitative Research Methodologies; Preparing, Writing and Reviewing Journal Articles
Introduction to Planning, Presentation technique and Teaching; Classic and contemporary entrepreneurship theory

ESR10

Neurogastronomy; Interior Design & Meal environment
Research Methods; Concept Design & Development

ESR11

Methodologies to study consumer perception; Neuromarketing; Development of public policies
Research Ethics and Philosophy of Science; Entrepreneurship; Gender studies