Children as co-creators of a healthy food product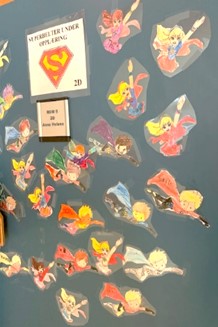 Is it possible to generate a product idea for a healthy snack or drink option with children? Can they describe how their optimal food product would look, smell and taste like? And what their needs are when it comes to maintaining a healthy diet? 
I am Martina Galler, an early stage researcher. I will be exploring sensory methods suitable for testing with children.  
In the first part of my project, I will explore the early product development stage with panels composed of children (10-12 years old). The aim is to get to know their habits, perceptions and needs. I am looking forward to applying new types of methods, derived from the field of psychology, social sciences and design. They will lead to broader but also less quantifiable results than with classical sensory methods. I am planning to combine photovoice, projected mapping and creative design for this co-creation sessions to gather insights about their food choices, reflect on them and come up with ideas for healthy snacks. 
How to keep my child participants engaged throughout the whole experiment? I am planning to build on previous research with children at Nofima that had positive experience framing their test into a story. E.g. Frida Felicia Vennerød-Diesen invented a taste ferry for her PhD research about taste sensitivity with kindergarten aged children. For my participants who are older I have been thinking about using superheroes that need to be healthy and strong as story.  This setup is likely to help them "thinking outside the box" for the creative design part by letting them project their needs into a superhero character. Also, I am planning to use some game elements in the test session. E.g. playing a Taboo like game to gain good descriptors for their real and invented snacks.