A remote sensory testing during Covid-19 pandemic with preadolescents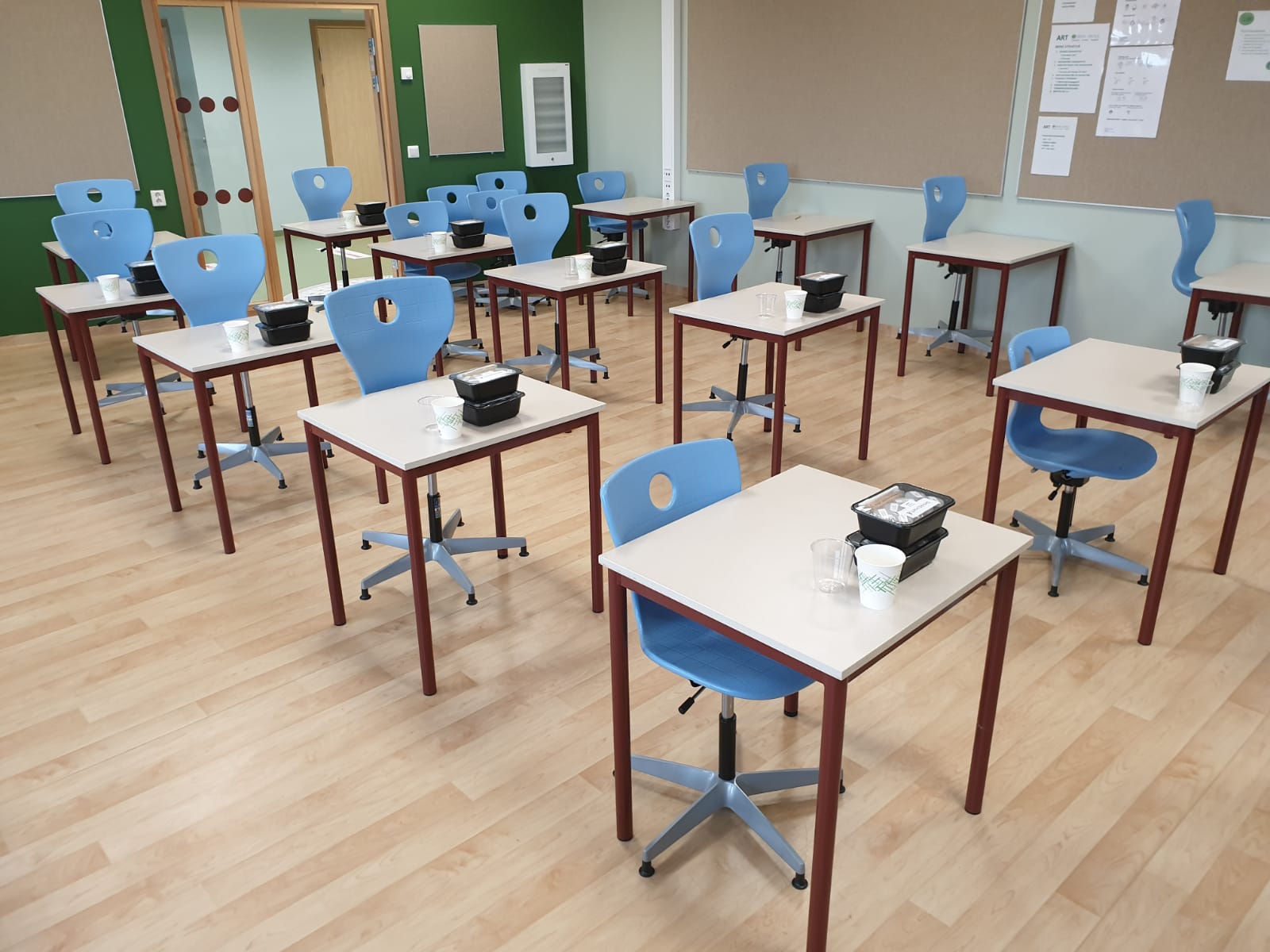 In Autumn, 2020, Europe was hit by the second wave of Covid-19 with remarkable numbers of infected cases reported daily. As such, many social activities were again restricted and banned. This restriction significantly impacted Ervina (ESR2) who was planning to conduct her sensory study with preadolescent subjects. The study required her to physically meet children at local schools, but this was not possible to avoid the spread of the virus.
So, how was she able to conduct the sensory testing without physically meeting with the children?
The answer was through remote sensory testing! The test was conducted in an online set up and the instructions were provided remotely via video conference call. The video was projected to the big screen or wall in front of the children's class. The interaction between the instructor, children, and teachers took place via this video conference call. The teacher and children can also directly ask a question to the instructor digitally. The video camera was turned on during the entire testing time, allowing her to monitor the test thoroughly. The food samples were prepared in advance and sent to children's respective schools on the same day of the evaluation. Further, an online meeting between the instructor and the school representatives was conducted before the testing day to ensure all the sensory practicalities such as placing the correct samples could be performed by the teachers.
The sensory testing itself was presented in a gamified concept called the "taste detective game", in which children can act as the taste detective and finish the different tasks. Simple and clear instructions were provided by the instructor using PowerPoint.
Thanks to the digitalization of the Norwegian school system, most primary schools in Norway have their own Wi-Fi and each child is provided with a tablet or laptop that they could borrow from the school. As a result, Norwegian children have good digital literacy since they use laptops or tablets as their learning devices both at school and at home makes which make them used to with an online setup such as this remote sensory test.
on, the remote sensory testing method was successfully implemented despite the Covid-19 pandemic in the data collection. It is suggested to further validate this remote testing method as one of the alternatives in sensory data collection beyond pandemic for this age group.
The publication related to this study can be found here:
Reference:
Ervina E, Almli VL, Berget I, Spinelli S, Sick J, Dinnella C. Does Responsiveness to Basic Tastes Influence Preadolescents' Food Liking? Investigating Taste Responsiveness Segment on Bitter-Sour-Sweet and Salty-Umami Model Food Samples. Nutrients. 2021; 13(8):2721. https://doi.org/10.3390/nu13082721.
Children, covid-19, data collection, Digitalization, ESR2, Online, pandemic, preadolescents, remote testing, Sensory test